Post by kappa on May 11, 2020 22:26:18 GMT -6
In the middle of a very one-sided battle, a green aura wrapped around the body of an emotionally devastated, mature blonde named Emma Frost.
Twice in her life, she was forced to witness the death of Jean Grey. To her ocean blue eyes,  the most beautiful woman to ever grace any version of Earth. Her soulmate, her one true love, and the nightmare that haunts her every single night.
A part of her wanted to die at the hands of a magical, anthropomorphic dog. Ridiculous as that sounds. Emma wasn't a religious woman, but, she truly hoped an afterlife awaited her with the redheaded mother of her children, naked on a couch, plump as the juiciest pear, with a homemade batch of chocolate and caramel drizzled kettle corn in her lap.
Instead, a song plays in her head. A sad and soothing tune.
Regaining focus of her surroundings, the elegant heroine find herself no longer
Down Under
, but, back in New York.
Which particular version of New York? She is uncertain. However, the upstate atmosphere is unescapable. As is a familiar looking child, sitting on the grass, dressed in a red Mickey Mouse T-Shirt with matching pants, a pair of yellow shoes, and boyish green curls in a medium length.
"... Timmy?" Emma raises a puzzled brow.
On the world she recently had been on,  Timmy, a genetically modified experiment, was a paralyzed child in a wheelchair only able to communicate through telepathy.
It was heartwarming to see him so healthy and lively.
"Hi." Timmy waves, his eyes focused at the distance. Emma could recognize it anywhere, It was the Institution. The name changes from world to world, but, aesthetically, it's always the same. More or less.
"Are you hungry?" Timmy innocently asks.
That's not exactly on Emma's mind at the moment. She's no longer with her team, The Avengers, often referred to as The Milf Squad, she's on an entirely different world, and, worst of all, she unable to protect Jean... once again!
"I'm good."
"That's a lie." Timmy shakes his head.
"I'm not hungry." Emma smiles.
"Why do you keep lying to me?" Timmy asks with strong convictions Emma isn't being honest.
He gets up, grabs Emma by the hand, and drags her to the School.
"You're hungry and you're having lunch." Timmy insists.
Emma sighs. Children have and will always be her weak spot!
As they walk around campus, an Academy filled with mutant children, Emma notices a few old faces.
Kitty Pryde, Bobby Drake, and Colossus were students. Cannonball, Karma, and Toad were teachers.
She was certain she'd see more of this the longer she stays here.
And, by chance, she comes across the Headmistress of all people.
"Who's this, Timmy?" An Elderly woman with white dreads, in a vibrantly colorful, matching pair of bandana and skirt, looks  Emma up and down. She was athletically built, tall, with eyes whiter than her hair follicles.
A gorgeous Amazon, she couldn't have been younger than 65.
"This is Emma." Timmy introduces. "She's hungry."
Storm smiles at the blonde.
"Welcome to Logan Prep. If you need anything, just me know." Headmistress  Ororo Munroe nods.
She walks off, Emma feels at ease. At least the people here, to an extent, look familiar.
They soon get to the cafeteria, specifically, the kitchen itself, where Emma whiffs something amazing. Ground Beef seasoned with a spicy Taco Mix.
It made her think of none other than Jean. Who's go to dish had always been the delightful, iconic Tex-Mex Taco with shredded cheese, sour cream, and homemade guacamole!
Emma was sure they'd be wonderful, but, she didn't expect the chef to match the wondrous joy in her heart.
A massive rear shimmy lefts to right. A familiar butt, her favorite butt. Looking all the more huge with a green apron tide around her wide waist.
The middle aged woman, a redhead with no less, turns around to greet her guest.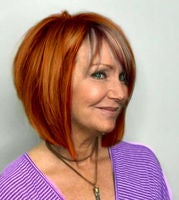 Emma is has once again found herself in Hell. To reiterate, not a religious person, and yet she's once again proven that, at the very least, exists!
"Well, hey there!" The Woman who could not possibly be anyone other than Jean Grey smiles with rosy cheeks and a warm, inviting smile. "I'm Jean, who are you, hun?"