Post by JackpotMans on Nov 15, 2020 23:33:44 GMT -6
This is another story in the Agenaria Resort, this time involving the Totally Spies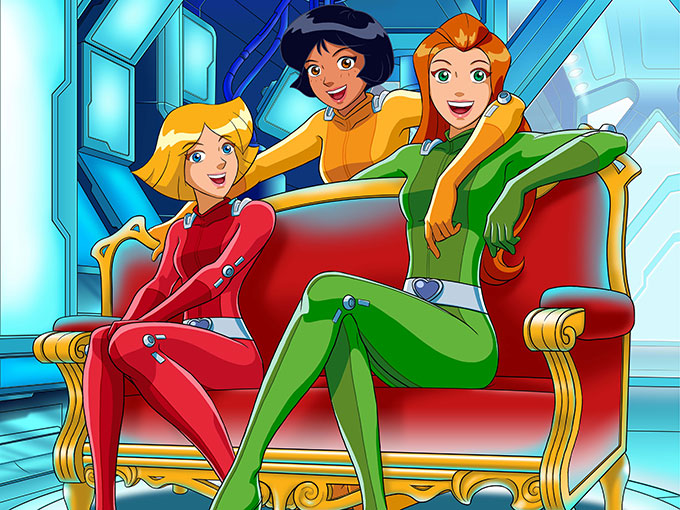 ---
It is a modestly quiet evening in Agenaria. The three WHOOP spies are being escorted to their bungalow. Each of them has slender, curvy, athletic builds. At the front is Sam, the tallest of the three girls, though only by an inch or two. She has long orange hair that goes past her shoulders. She is wearing a green belted minidress that goes halfway to her thighs and knee-high green boots. The next to enter is Clover, a blond with a fluffed bob cut with the sides and back flared out. Of the three, she has the perkiest chest. She is wearing a pink tank top with blue jeans that stop at the ankles and pink shoes. Finally, there is Alex, a darker-skinned girl with black hair in a bob. She is the most athletically built of the three. She is wearing a white tanktop with baggy beige pants and white and yellow sneakers.
---
The trio is led by an employee while another is toting a cart full of luggage. They led the girls to one of many similar-looking bungalows. The employee hands some key cards to Sam before opening the door for the trio. The bungalow is smaller than average, with a clean, slightly retro look. There is a living room area to the immediate front with a couch, coffee table, and television. To the right of the front door is a kitchenette area with a dining table. A hallway on the right side of the room leads to a pair of bedrooms. The employees put the luggage off of the cart and make their leave, one of them saying, "enjoy your time in Agenaria."
Sam begins to scan over the bungalow while Alex and Clover immediately slump on the couch with a sigh of relief.
"Ugh finally, feels like we were walking for miles!" Alex moans.
"All those carts and limos and they couldn't spare us one?" Clover complains.
"I guess they needed them for all those old people we saw at the lobby," Alex says before turning on the TV.
Instead of the normal channels she was used to, a simple menu with a play option appeared.
"Woah, what's this?"
"Agenaria Welcoming Guide," Sam reads, "I guess this is for the guests."
"Let's watch it!" Alex says immediately pushing a button on the TV remote.
A woman in her mid 50s appears on the screen.
Hello guests, and welcome to the Agenaria! We are a high class resort known for being at the forefront of relaxation and entertainment! As you have probably seen on your way here, there are multiple venues for you to enjoy! Our shops have a variety of clothes for all you fashionistas out there!
Clover and Alex oogle at the various clothing on the screen. Even Sam in her focus countenance is intrigued.
All of our venues are not only catered to be the best, but are also designed using the latest technology! Our masseuses at our famous spa will make you feel ten years younger!
"Oh no, I don't want to feel ten!" Alex exclaimed. "I think that's for the old people," Clover says.
Of course, there are plenty of other activities for you to enjoy while you're here. Take for instance our nightclub! Or for the outdoorsy types, we have parks and beaches for you to take in nature!
"Oh yeah, that beach is the first place I'm going to!" Clover exclaimed.
Even your abode is outfitted with multiple devices to make it your home away from home! A wonderful kitchen, modernized equipment, and soft beds! This tablet can be even be used to view events and order room service!
"I'll admit, despite its retro look, this place is pretty high tech" said Sam.
Everything here is for you, our humble guest. This will be a once in a lifetime experience. The owner of Agenaria has strived to create an experience that is fun, exciting, and full of life. We will make sure that your stay will be the utmost in comfort and care, you needn't worry bout a thing! You have our guarantee that your experience will be so great, you'll want to stay until you're old and grey! On behalf of all the staff here in the resort, we hope you enjoy your time at Agenaria!
The screen suddenly switches to a local LA news station.
"This is hands down one of the best places we were sent to!" Clover said.
"We aren't here for a vacation girls. We have a mission." Sam reminded them.
"Aw don't be such a fuddy duddy, Sammy, we can still have fun while we're here." Alex responds
Sam sighs, and pulls out her Compowder. As she activated it, an image of Jerry appeared on the device.
"Hello girls, I hope your trip to Agenaria was smooth."
"Boring and noneventful," Alex answered.
"Alex, this is a recording," Sam said. Alex did an embarrassed laugh.
"
I have recorded this message in case you needed a reminder of your mission,
" images of advertisements for the resort appear next to the hologram, before switching to scans of the ocean itself.
"
This is Agenaria, a luxury resort and spa located on an island in the middle of the Pacific Ocean. WHOOP cannot get any intel on its owner, when it was built or how it even got there. But we do know two things: one-it has attracted quite a number of guests,
" The screen shows a number of people boarding a yacht off the coast of California, "
and two - we detected minor readings of quantum energy around the supposed location of the resort. WHOOP believes that it is nothing, but we need a direct report to make sure. We have arranged for you to go to Agenaria as guests. Go and gather as much intel as you can about what is exactly going on in there. Unfortunately, that area of the Pacific is notorious for interfering with communication signals. You'll need to set up the communication dish that we provided in your luggage.
"
Sam peers to a silver luggage branded with a W.
"Good luck spies, you'll be on your own for this one."
As the image of Jerry fades, Sam begins to move the silver luggage case.
"Do we need to start the mission now? I wanted to go to bed first," said Alex.
"Aw, don't go old lady on us again, Alex!" Clover said.
"You know, there were a lot of old ladies." Sam said. "And old men too," said Alex.
"Did you see any old people on the plane to Agenaria with us?" Sam asked.
"Hm...I don't think so. Maybe they arrived before we did?" Clover proposed.
"Perhaps, though it seems like this resort isn't the place for old people."
"Maybe those guests stayed until they were old and grey!" said Alex.
"I don't think that's possible Alex, unless they were super rich," Sam responded.
Clover yawned and said, "Well it's getting late ladies, it's time to get some beauty sleep." Alex agreed and the duo turns to Sam, who is at work on her compowder surveying the area.

Alex pulls Sam away from the luggage saying, "Come on Sam, we have 2 weeks to complete this mission, we can find time for that!"
"Aren't either of you suspicious of this resort?"
"Of course, but we're in a resort, relax a little," Alex responds.
"And you can't complete a big mission without some beauty rest!" Clover adds.
"Fine, I guess we can call it a night," Sam conceded.
"Hooray! Don't worry Sam, you can have the solo room!" Alex said.
The trio splits off into the bedrooms to sleep for the night. To the right of the entrance is the bathroom complete with a shower tub combo. Further down is the main part of the bedroom. To the right is a queen sized bed with a nightstand and a lamp. To the left and in front of the bed is a dresser with a mirror. At the back is a table with a chair and a window that peers behind the bungalow to the resort. As Sam enters the room, she overhears Clover and Alex from the other bedroom gossiping about the various things they'll do on the resort. Sam sighs as she changes into a green nightgown and light green slippers. After moving the table out of view of the window, she unpacks the silver luggage. The luggage contained a small console with a satellite attached to it. While unpacking, her focus shifts towards the window. There she sees a trio of old ladies on rocking chairs giggling away before falling asleep. Her mind wanders and she imagines her and her friends as grannies in those rocking chairs. While the sheer amount of old people around them was concerning and slightly awkward for Sam, that thought makes her feel strangly happy. A wave of exhaustion hits Sam and after attaching the console to her laptop, she sets an alarm on her compowder and then goes to bed.
---
The next morning Sam was awoken by the blaring of her compowder. As she rose from bed she felt a sharp pain on her back and a bit of weakness in her knees. Oof, that bed was a lot softer when I laid down, she thought. The morning haze quickly dissipated as soon as Sam looked in the mirror. Staring back at her was not the 20 year old from last night, but rather an almost 90 year old woman sporting a pair of round glasses. Her orange hair was now light silver. It surprisingly kept a similar volume and style despite the aging. Lucky for her, the nightgown still covered most of her body. Her body was a shadow of its former self. She had gained a considerable amount of weight, sporting a large belly and an even larger rear end. Her legs now covered in hair, wobbled under her new frame. What happened to me? I look ancient! Sam thought. She ran her hand across her cheek pulling her skin as if to wake up from a nightmare. Her hand then grabbed her right breast, trying to put it back to where it was last night, only to have it sag back down feeling it brush her nightgown. She looks down at her spotted hands and discovers that she now is using a walker. On the walker held a pair of dentures floating in water. Are those? Oh no! Sam thought. She opened her mouth in the mirror and screamed in horror upon seeing only gums. This can't be happening!
Sam was then spooked by a rapping noise on her bedroom door. She puts her teeth in, and begins to shuffle towards the door. Using what strength she had to propel her walker forward made her whole body ache. Eventually, she went to the door and opened it. Sam lets out another scream as she saw wrinkled versions of her two best friends.
Like her, their legs were wobbly as they stood. Their hair while white and silver, were still the same shape and volume. Directly in front of Sam was Alex. Despite her more active lifestyle, Alex had gained a considerable amount of weight, almost as much as Sam. Her sleep shirt, which was oversized for her younger body, now barely covers her naked private areas. Her thighs are fattened and her butt is as flat and droopy as her boobs. She is clutching a cane in her shaky hands and has a pair of glasses on. To the side of Alex is Clover. She is the skinniest of the trio, although she did gain enough weight to get a potbelly. Her waist muffin-topped over her sweatpants and her tank top barely contains her droopy boobs. She fiddles with a hearing aid dial.
Lifting her glasses and trying to focus Alex asks, "Sammy? Is that you way over there?"
"Girls! Something horrible has happened!" Sam exclaimed.
Clover says, "Oh jeez, you think? My boobs are down to my stomach for crying out loud!"
Sam turns around and moves towards the communication console she set up last night with the other two hobbling behind her. Sam tries to use her laptop to contact WHOOP, but every attempt resulted in an error. She then opens the communication console. "Those darn Whoop techs, who uses bobby pins in the important communication dish?"
"Do you know how to fix us Sam? I don't want to be this old for 50 more years!" Alex says looking at her reflection in the bedroom mirror.
Clover, who had been scanning a strand of Alex's hair with Sam's compowder says, "Try 70 more years. According to this scan, you're 90 years old."
"Don't worry ladies, all I need is a bit of metal to use as a better conductor, maybe some gold or platinum..." Sam said
"Where can we find that?" Alex asked
"I remember passing by some jewelry stores on our tour, we should be able to get some there," Sam responds.
"Then let's get going!" Clover shouts, "The sooner we can get young again, the better!"
"Um girls?" Alex asked, lifting up her shirt to reveal her naked crotch. "I'd like to put on some pants first."